Update (04/13/15):  It's hard to believe how fast time has past.  When I originally wrote this post, I had been homeschooling for four years,  It's now been 12 years that we've been on this journey. The daughter for whom this post is written about has since graduated from high school, gone on to college, and is now a married woman with her own photography business.  Seven years past the original date of this post, I still am happy that we chose the homeschool path.  Thought it would be worth a repost.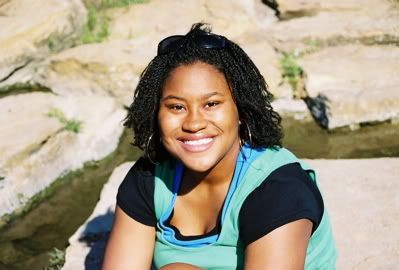 Every now and then I get questions that I think are worth responding to on my blog. I thought my answers might be good to share in a post.Let me start with WHY we started homeschooling and then work backwards…
Gracie was in the 5th grade when I seriously began considering homeschooling as an option. Prior to this, I was a single working parent and this would not have been an option. I had been married about six months and was discussing my daughter's struggles in school to a friend of mine from church who homeschools her own children. She kept insisting that we try it. I just shook my head. My thought was that it wouldn't work for us. My friend pointed her finger at me and said, "Watch, you are gonna end up homeschooling." I did not even entertain the idea.Now Gracie has always needed a lot of help from me to do well in school. She has never been that type of self-motivated, wanting A's really badly, kind of kid. She is a day dreamer. She is a creative little thing. To this day, she tells me that a teacher talking or lecturing for more than 10 minutes makes it really hard for her to focus.Gracie switched schools in the second grade with me looking for a different school that would make things better. We switched schools again in the 5th grade searching a little more. Halfway through her sixth grade year, I just couldn't take it anymore. We were spending anywhere from three to four hours a night working on her homework. It was torture. I spent my evenings, reviewing or reteaching what she had been taught during the day. It wasn't that she couldn't get it, she just couldn't get it in the traditional way. I found myself reading books, trying to educate myself about different learning styles, learning differences, and learning difficulties. I took her to the doctor and had her diagnosed with ADD so that the school would have an official diagnosis with which to allow modifications to her school work. The school was great and made every attempt to accommodate Gracie's learning style.
Gracie had trouble spelling. We would spent so much time going over her weekly spelling list and then she would take her test and fail it. I read a book that helped me to understand Gracie was a right brain learner and that I needed to appeal to her ability to see pictures. I showed her the spelling words on a card, had her tell me when she had the picture in her brain, then spell the word to me. She could do it, no problem. Then I asked her to spell the word backward. She would look up in the sky and spell words backward correctly too. I spoke with her teacher and requested that she be allowed to orally spell the missed words to her teacher. She began making A's.
Even with all of the extra stuff I was busy figuring out and putting into place to help her be more successful in the classroom, this didn't fix the problem of our time. All of the "extra" stuff took so much energy on my part and her childhood was speeding by while we sat at the kitchen table in the evenings working through it all.
We pulled her out mid-year in her sixth grade year.
Now, my plan was to homeschool her through junior high and then put her back. I was going to "fix" her and then enroll her again in high school. She ended up fixing me!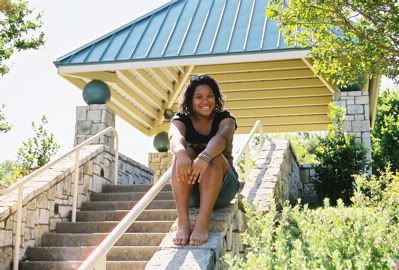 By spending TIME with my daughter, I found out so much more about how she really learned. I was able to stop trying to do things the way that made sense to the school and focus on what made sense to her. She flourished. She also had time to pursue all of the things that interested her outside of school hours.I learned with her. We spent lots of time reading together or talking about the random things throughout the day. Random things that we'd never had the time before to explore. Being with Gracie not only gave me an opportunity to give her one on one academic attention, it also gave me an opportunity to pour into her life.When her eighth grade year came to a close, it just didn't seem right to put her back in the classroom when there was so much more to life than what she could learn sitting in a desk. So we decided to homeschool through her ninth grade. One more year I thought, and we'd both be ready to part ways. That didn't happen either.
Toward the later part of her ninth grade year, we discussed the option of private school. We even took her to a private school that she had attended before and let her spend the day there, getting the feel of the place, hanging out with old friends, and checking out the classes. I told her that if she was going to go back to school I needed to know soon because there was planning I had to do and time I had to invest in preparing a high school course plan and graduation. I didn't want to do all of that for her to jump up at a random later time, proclaiming her desire to go to school after I had done all that work.
The evening after her visit she wanted to go to that school ASAP. The next day she did too, but sometime around the 3rd or 4th day, she didn't mention it at all. We asked her about her sudden lack of excitement, and she told us that she didn't want to go. When asked why, she cited all of the reasons that I had grown to appreciate about the beauty of homeschooling. She also said that she enjoyed the freedom that homeschooling gave her to develop her unique talents and gifts. Gracie is a gifted artist. She has independently taken up the guitar and piano. She sews and has made quilts as well as some clothes for herself.
Gracie & her guitar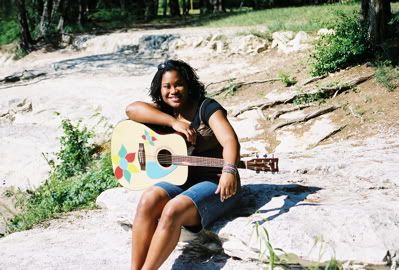 One of her art pieces
Lest someone think I'm a gifted homeschool mom and teacher, don't be fooled. I don't sew, I don't draw, and I don't play guitar 🙂
So, for us, homeschooling has become just as much about life as it is about school. We are just as interested in preparing our daughter for college with an academically rigorous program as we are in preparing for her to effect her world for Christ. Homeschooling goes beyond Algebra & English Composition. It grants us the opportunity to explore what SHE is created to do and to explore her talents and gifts early in her life. It gives us the opportunity to focus on areas of her character that need to be refined (as well as areas of our own character). It allows us the time to actively and effectively transfer our beliefs and make sure that, before she leaves our house, she understands what she believes and why she believes it.
Homeschooling provides the time for us to practice what it means to be a family. Gracie is just as good at most of the stuff around the house as I am. She will be well prepared to be a Mom and a keeper of her home.
A healthy pie Gracie made for her co-op health class with wheat flour pastry and organic dried fruit. (Look closely for how she personalized her pie with her first initial).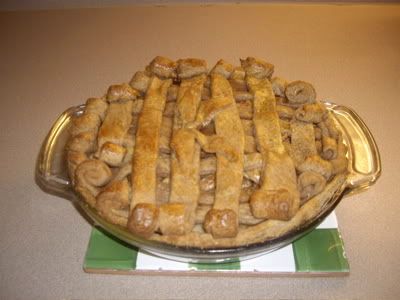 Me & Gracie in the kitchen together. I was teaching her how to make strawberry cake.
Gracie's work in the kitchen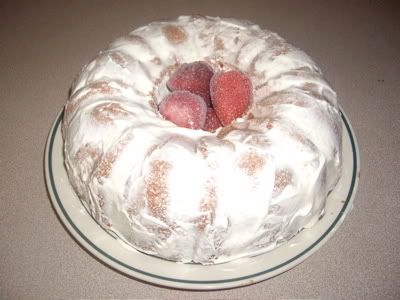 I believe in the power of an education. I also believe in the power of learning throughout life, not just in K-12. In the last week, we've discussed everything from the gradual erosion of constitutional rights for individuals in this country to literary character development in The Scarlet Letter. Gracie will be well prepared to think critically and to make a living in whatever line of work she chooses.
I say all of this not to toot my own the horn for our household or to make it seem as if homeschooling is the only option that will work in raising great kids. I've just felt for sometime like I ought to blog about this topic because I'm asked so often in real life why we have chosen to do this for our children. Most people are much more accepting of the idea of homeschooling little people but are shocked that we plan to homeschool Gracie all the way through.
Just wanted folks to know that it's possible and that it can be very rewarding and worth the effort. We are very grateful that God led us to this path. We pray that we are the kinds of stewards He would want us to be of these precious gifts He has given to us.