Chrystal's Chronicles Repost (11/5/13): My grandmother passed a few weeks ago.  The value of words on paper were valuable to me in 2007 when I originally wrote this post.  Today, they are exponentially more important and I'm so grateful to have them in my possession.
There is value in the written word.
I asked my grandmother, "Two Mama", to write me a letter. This is my grandmother who emails me regularly in ALL CAPS, yelling out me through cyberspace when I've gone too long without contacting her 🙂
I don't remember how long ago I asked her but I've been hounding her for it for awhile. I don't remember when or how I came to the conclusion that I wanted a letter from her; all I know is that it became important to me to have a letter from her, to me, in her handwriting.
I just received it the other day.
I've read it about a million times, each time treasuring every word. She wrote about the first time she saw me and about her first time babysitting me. She wrote about my visits to her every summer and her memories of some of my harder days. She wrote about how much I meant to her then and how much I mean to her now. I treasure that letter. It's tucked inside my journal, an arm's reach away whenever I want to hear her thoughts about me.
There is nothing like the written word.
In our day and age, where technology drives email, texts, and blogs, I'm sure that there are many precious thoughts that are discarded or lost forever after they are read. What happens fifty years from now when your grandchildren want to know what kinds of sweet things you said to your sweetheart, spouse, or your children (their parents).
There is something that is just "right" about getting that box of letters down from the attic that belonged to your mother, or mother's mother, leafing through them and learning about people that may have never had the opportunity to meet. There is something that just feels good about being seventy-something and going through cards and notes from loved ones on a quiet afternoon of an empty nest. There is something right about having certain words, on record, forever.
This realization comes on the heels of another written word that I will treasure forever. Shortly after my grandfather died last spring, my mother and some of her siblings were going through his effects. My Mom called me one day to tell me she had found something that she thought I would want.
Six and half years ago, on my wedding day, my grandfather addressed everyone at my wedding reception. I had asked him to give a welcome and bless our dinner meal. He had prepared a speech. We all stood awaiting the blessing and stood listening to his thoughts on me, Jessie, and the sacredness of marriage. We stood for what seemed like forever.
Well, he wrote his speech down.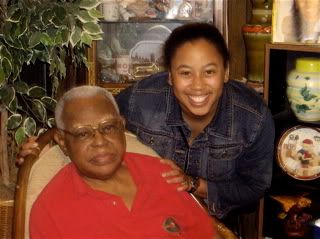 I have his thoughts about me, my husband, and the sacredness of marriage written down on paper, for me to cherish. I have his thoughts with me even when he physically is not. There is nothing like it and his words on paper cannot be reproduced, relived, or rewritten…but I have them.
There is value in the written word.
I haven't figured out how to preserve them yet. There are 13 sheets of steno-sized paper. For now, they are folded neatly in my journal beside my bed. I have them close to look at them whenever I like.
Maybe it's that you print some of those precious emails and keep them in a file. Maybe you should look into saving time during the holidays to print those blog entries and put them in a binder or having them bound together at an office supply store. However you do it, treasure the written word.
And then…give some written words to someone else to treasure. Write letters to your children, to your husband, to your parents, to your closest friends. Send real cards instead of sending e-cards. Get some stationary and take time once a week on a Sunday evening to put in your own handwriting something that you want someone to know. Don't you know how excited they'll be to see something besides a bill in the mailbox?
Preserve your family's heritage by documenting the events that hold the most significance for you. Keep history alive for future generations by making sure that they know what transpired before they arrived on the scene.
Just think…how would we know so much about some of the greatest people in history if they had never written letters or kept in depth journals. How would we know about some of details on the front lines of war if some solider hadn't written home about it or kept their journal close on their person? How would we have known the details of the life of Christ? Someone had to take the time to write it all down.
So write it down. There is value in the written word and your thoughts, dreams, ideas are worth remembering.